Trust our Magento experience
Magento is the leading open source Ecommerce platform providing a flexible and feature-rich solution to meet a wide range of business needs. We are a Magento Platinum Hosting Partner and have in-depth experience customising hosting solutions to assist you to optimise the performance of your ecommerce site.
Rackspace has been a Magento Partner since 2009 and has the largest base of complex Magento installations[1]. Using our specialist team of architects, as well as our network of solution partners, we will work with you to help design the best solution for your Ecommerce presence.
This experience means that you're in the hands of an effective, successful and proven partnership. Download our one-page overview document here to find out more on what makes us a leader in Magento Hosting.
[1] As of March 22, 2013, according to trends.builtwith.com
What can Rackspace and Magento do for my business?
Want to know about the Magento and Rackspace Partnership? This short guide will provide you with an overview of how we work together, why Magento solutions partners work with us, and how our Hybrid hosting offering is perfectly aligned to address the needs of the eCommerce market. Download now.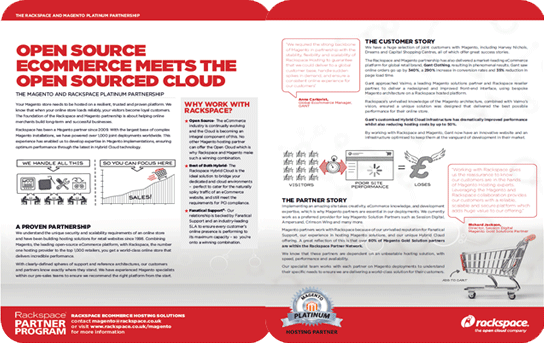 What you get with Magento hosting from Rackspace
Deep knowledge of, and experience building, Magento-powered stores
A hosting provider who functions as your trusted advisor, with relationships with top solution partners
The ability to test new global markets using Rackspace's nine data centres and Magento multisite deployments
Better conversion rates and customer engagement from an environment optimised just for Magento
A complete portfolio of cloud, dedicated, and hybrid solutions—so you get the benefits of each
Fanatical Support for help architecting, building, and running your store's infrastructure
Get the solution you need
Our Cloud hosting gives you maximum scalability and flexibility, whilst Dedicated hosting offers high performance and security. RackConnect is a hybrid solution enabling you to bridge your cloud and dedicated environments to get the best of both worlds.
Combining the right infrastructure with our industry leading Fanatical Support helps to ensure that your Magento powered store is in safe hands.